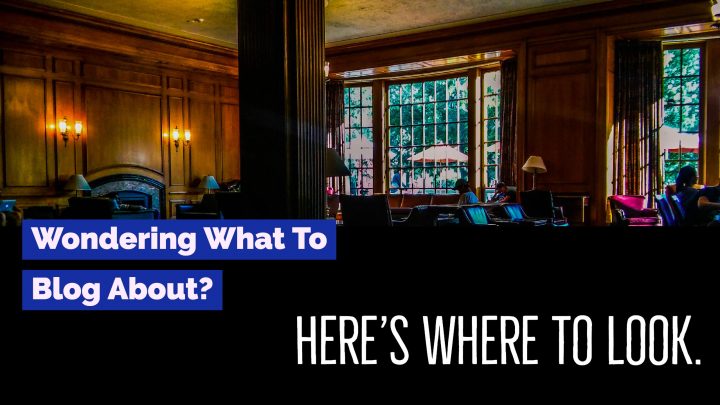 Blogging can be a lot of fun, but sometimes you're faced with a common question: what do I blog about?
Blogger's block can be difficult to undue, and it can cause a lot of stress and anxiety. So, thanks to Jerry Low, here are a few strategies that will get your creative juices flowing.
1) Use Google Analytics To Post What's Popular
When trying to create great content, you don't have to reinvent the wheel. In fact, you can use Google Analytics to find your most popular content, and then give more of that to your audience.
Google Analytics provides some strong insight into your blog and your audience. If you haven't installed Google Analytics on your blog, adding Analytics should be your first task to improve on what you're already doing. One of the best insights you'll get from Google Analytics is discovering which posts your audience already loves.
Once you do this, you can either create more content that covers the topic, or you can take the existing post and revise it.
2) Take Non-Blog Posts and Repurpose Them
One of my favorite ways to create new content is to take existing content and repurpose them. In fact, I'm using this strategy with this very blog post. Jerry recommends taking it a step further and creating content with stuff that's not a blog post.
For example, if a podcast is getting a lot of traction, then link to it and add your own thoughts on the topic.

You can find non-text content related to your topic and embed into your blog post or create an entire post about that content. YouTube and SlideShare are both places where you can find interesting content and draw it into your overall roundups.
I love to do this with Youtube videos and infographics. In particular, if you make Youtube content, you can grab a transcript and turn it into a blog post with the Youtube video embedded.

3) Search and Answer People's Questions on Quora
One of the ways you can ensure that your blog post will get attraction is by creating content that answers people's questions. Quora is a great place to find out what people are talking about. Jerry covers three ways you can find great content:
Browse through the forums
Do a search on a topic
Check out the Trending Topics
Once you find a question, you can come up with a blog post that answers that question.
4) Use Trending Topics on Twitter and Combine Them With Your Niche
This is a great test of your blogging abilities. Even though the topics can seem far fetched, if you're able to merge them with your subject or niche, it can be a powerful driver of traffic. According to Jerry, there are three benefits to this approach:
Attracting a new audience who otherwise might not have read your blog.
Making current readers think about an old topic in a new way.
Benefiting from social media traffic and online chatter on the trending topic.
To find these topics, you can check out the Trending Topics section on Twitter as well as use tools like RiteTag and Hashtags.org for hashtag research. Here's one example of how this can work:
[L]et's say you own a local health food store and a blog about healthier eating and exercise. So, you might write about "Exercising in Small Town, USA While Hunting for Pokemon." You get the idea. Tie it into the trend, make it pertinent to your audience, and you'll gain momentum.
Thank you Jerry Low for these awesome tips! You can read the full story on Problogger.