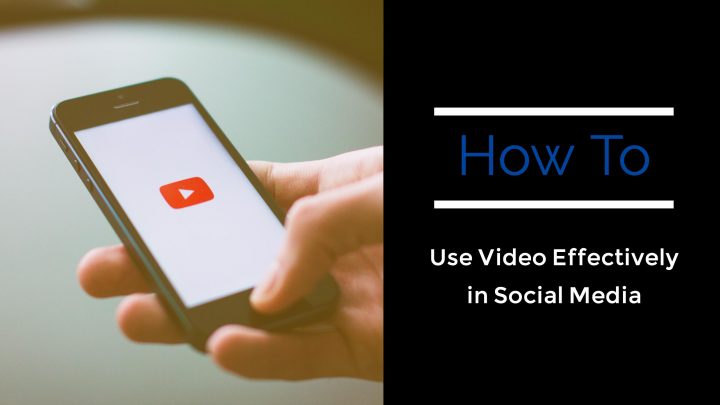 One of the biggest developments of social media has been the increase in the prevalence of video.
If a picture is worth 1000 words, how much is a video worth?
A whole lot. 
However, many people are not taking advantage of video. Primarily this is because they think video is too complicated and complex to use. But that's not the case, and that's why I'm going to show in this blog post.
Note: this is another one of those epic blog posts where I go into a lot of detail. If you're strapped for time, I've create a PDF version that you can keep. Click here to get it:
Why you should share video content
Many people wonder why social media video is so popular.
Well, video stand out in all the social media newsfeeds. In particular, Facebook loves video.
If you do video on social media, you stand out in the news feeds!
Click To Tweet
Another big reason is that all the major social media platforms are trying to incorporate some sort of live video content.
Why live video?
The reason is that they want people to stay on the platforms. Thus, live video enables people to generate amazing interaction with their fans and keep their attention.
Types of videos for social media
One of the big misconceptions with video in social media is that there is only one type of video that you can do – namely, the talking head video.
This is not true; in fact, there are seven different types of videos that you create for social media.
Tutorial. If you have any knowledge around a certain topic, create a tutorial video teaching people how to do it. This is perfect for those who use different software but also for tutorials of processes that don't require you to be on camera.
Demo. Do you use a particular tool? Feel free to do a demo of its features on social media. We will find that this is a great way to get people to learn more about the product in an interactive way. this makes them more likely to use it.
Presentation. Are you afraid of going on camera? If so, presentations are a great way for you to get a video up and running without having to show your face. Here's one that I did a while back.
Live blog post. Similar to presentations, you can repurpose your content and turn it into a video for great social media content.
Interesting daily thing. Stuck on what to create? Try sharing something about what is going on in your life or day and is relevant to your audience. Even better, share a lesson or two that you discovered today
Multi-person show. Feel awkward doing a video on your own? Try inviting someone along. This is a great way to not only get exposure among other peoples' audiences, but also to help expand yours. This can be someone else outside your community, but it can also be people on your team. You can use a tool like Google Hangouts or BeLive. Here's an example from Femtrepreneur where they discuss launches with Zach Spuckler.
Photo slideshow. You don't need to do a classic video with voice overs and screencasts. You can simply include a video out of a few photos. Try using Adobe Spark for this (more information about this app later).
How to have good camera presence
Unfortunately, at some point you're going to have to be on camera if you want to have a good video.
Why?
As much as we like to not think, people connect with those who the can see in person.
This means if you want to connect in the most optimal way, you're going to have to show your face on camera.
If you want to connect in the most optimal way, you're going to have to show your face on camera.
Click To Tweet
Having said that, it isn't easy – believe me, I know. So here are some ways that you can have a good camera presence.
Always warm up before you go on camera
When I was doing theater in high school and college, we would always warm up before we went on stage. We never did a performance cold.
Here are a few ways that you can warm up before you go on camera:
Tongue Twisters. Sentences like "Peter Piper picked a peck of pickled peppers" practices your alliteration and enunciation. To make this work best, repeat the tongue twister, with each repetition going twice as fast. (You can clap your hands to keep a steady tempo if this helps.)
Repeating Syllables. Similar to Tongue Twisters, repeating simple syllables like "Dah", "La", and "Nah" help your voice get more articulate. Try repeating different syllables in groups of four, like "Dah Dah Dah Dah Nah Nah Nah Nah."
Puppet on a String. This is an excellent exercise for relaxation. Let your body hang loose over your feet, as if you were trying to touch your toes. Then pretend that your head is attached to a string and you are being pulled upwards one backbone at a time. You should end with yourself standing straight.
Enunciate your voice
One important thing when you're making videos is to ensure that your voice is clear. To do this, make sure that you are emphasizing your consonants and shaping out your vowels. The more you enunciate, the more clear your voice is and the more confident you'll project when you actually appear on camera.
Enunciate your words so that your voice is clear in your videos!
Click To Tweet
Use a good microphone.
A good microphone ensures that people will hear your voice clearly. If you're wondering which microphone to use, try this one.
Tools for Making Social Media Videos
One of the nice things about today is that there are so many tools to create video. This means you don't actually need any kind of expensive equipment. Here are a few that you should use.
Live video
Live video is the easiest way to use video for social media. This is because unlike the other types of video, you don't need to actually prepare anything.Here's an example of a live video that I did.

Phone camera
Believe it or not you can actually shoot video using just your phone. Here's a video from Sunny Lenarduzzi on how to do this.

iMovie/Windows Movie Maker
Both of these tools enable you to edit video very easily. In particular, you can use these tools to string together clips that tell a story. Here's how to edit videos with these two tools.
QuickTime
Using this tool you can record your computer screen. This is fantastic for doing tech tutorials as well as shooting videos when you don't want to show your face (for example a screencast of a presentation).
Adobe Spark.
This is the tool that enables you to create social videos. There are two ways that you can use this tool.
The first is to use Spark Post to create animations of still images. This is great for short videos where you want people to do something rather than watch the video.
The second option is to use Spark Video. This is the tool that enables you to create much longer videos like a slideshow presentation. The best part about this app is that you can animate text so you don't have to worry about actually recording any clips.
Final Tips for Making Videos on Social Media
Include an intro/outro clip
Now that we've covered the basics of creating videos for social media, let's go over some additional tips.
The first one is to include an intro or outro clip in your video. This gives your video a professional touch and also allows you to give a call-to-action to your audience.
Use your intro/outro to give your video a professional touch!
Click To Tweet
Create a custom thumbnail
The second tip is to create a custom thumbnail. The reason for this is that your video is going to appear in a very crowded environment where you want to stand out. The best way to do this is to create a custom thumbnail so that your video will grab people's attention when they see it in their newsfeeds. To  do this you can use either Canva or Adobe Spark.
Create a custom thumbnail so that your video will grab people's attention!
Click To Tweet
Over to you
I hope this post has given you some ideas of how to use video in social media. And if you haven't already, be sure to grab my PDF copy of this post so you have this information always on hand:
Did I miss anything? Let me know in the comments below!