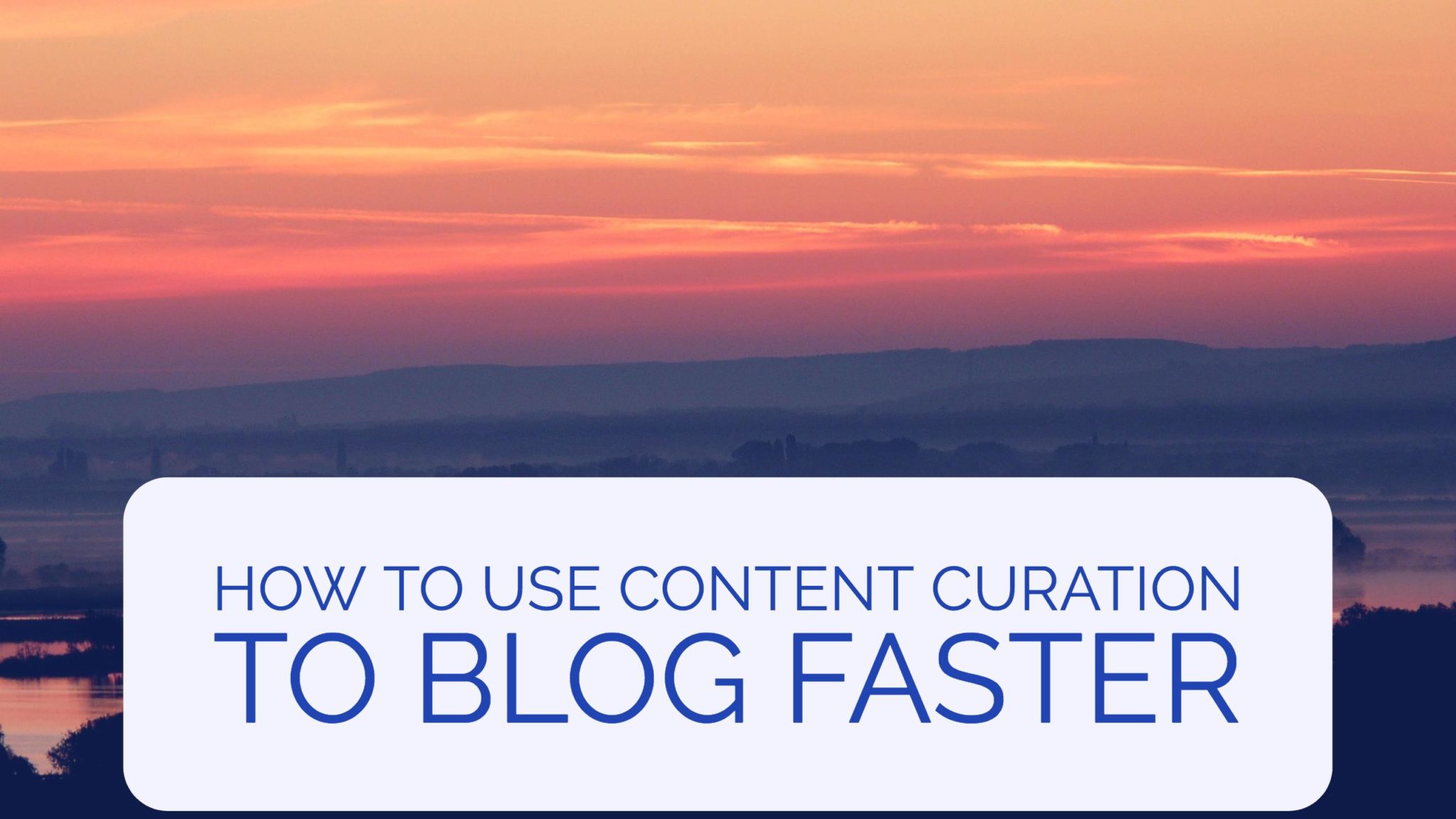 Why do you want to use content curation to blog faster?
Well, the beauty of content curation is that you can curate a bunch of topics.
This means not only can you not run out of ideas, you can piggyback off of other people's content. By quoting them, you can establish your authority by saying, "Hey, I know these people."
Content curation lets you piggyback off of other people's content.
Click To Tweet
(By the way, you can actually let them know that you actually referenced them in your blog post. That gets you more free traffic. )
In this article, I'm going to give you a five-step process to creating blog content out of curated content. I'm using this process right now to revitalize my blog and make the content much more valuable.
1) Find an article.
There are a couple ways that you can find articles.
Use A Search Engine
One way to find articles to curate is to use a search engine. Examples are BuzzSumo or Pinterest or just simple old Google. Type in something you're interested in and it will pop up articles that you can check out.
Type out topics in a search engine to find articles to curate!
Click To Tweet
Use a content aggregator
Another way you can find content is to use a content aggregator. You can use something like Feedly.com. (This is a tool where you throw in RSS feeds for different blogs). Alltop.com is another great resource I use all the time.
Use Pocket's Recommended Tab
A third resource is an app called Pocket. This is an app that lets you save articles that you find on the internet for later. A big benefit of the Pocket app is that if you download the app (either your computer or smartphone), it will download offline versions of the article. This means if you're on an airplane where you can't get Wi-Fi or data, you can still work offline.
Use @pocket when you need articles when you don't have Wi-Fi!
Click To Tweet
Pocket has a section in their app called "Recommended" which shows articles that are related to those that you've saved. I've often browsed through their selection as it's very targeted and popular.
If you want to learn more about how to use Pocket, check out this article.
2) Grab A Prime Or Odd Number Of Tips
Why do you want to use a prime or odd number?
The reason  is because those numbers generally stand out from the normal numbers that most people use.
For example, there's a great website called List 25 that has great articles with 25 elements each.
That's why you want to use that numbers – because it creates a more unique number of points that you can use in your curated blog post.
Prime or odd numbers make for awesome blog post titles! Use them whenever you can.
Click To Tweet
Once you have these tips, write them down. You'll use this for reference in the next step.
3) Do A Live Video
The next step is to jump on live video.
Why live video?
Well, the main advantage of live video is that since you speak more words than you type, you can easily create a big long article in a few minutes. If you had to write out the amount of content, it would take you maybe a couple of hours or even a couple of days.
In contrast, because live video requires so little setup, you can get on live for 5-10 minutes and have a blog post in video form.
Live video is so easy to use; it only takes about 5-10 minutes and requires no setup!
Click To Tweet
If you're wondering which platform you should use, I'd recommend Facebook Live or Periscope. Use whichever one is more comfortable for you and where you have a bigger reach.
In your live video, you want to talk about your tips that you've just curated.  Make sure to elaborate on each point and ensure that your audience knows why it's important. Say what you like and didn't like, where you think it really hits the nail, and where you think it needs improvement.
Elaborate on each point that you've curated. This ensures your live video has some great content!
Click To Tweet
Pro tip: if you're nervous about going live, one thing you can do is to use Facebook Live on your personal profile and select "Only Me" in the privacy settings. This means only you will be able to view the video, so you can go live without worrying other people will see it.
4) Get A Transcription
The next step is to get a transcription. The reason you want to get a transcription is because you've already created the content for your curated blog post because you've shot a live video.
Get a transcription from your live video. That becomes your blog post!
Click To Tweet
There are lots of ways to get transcriptions, but a service I highly recommend is rev.com. There you can pay $1 per minute and you can get a transcription of a video. I've used this for all of my live videos in order to create blog posts out of them.
5) Write Your Blog Post
Now you have this transcription, the fifth final step is to create the blog post. The beautiful thing about this is that you already have a live video that's structured. Just take that text and turn it into a blog post with proper headings, click-to-tweet boxes, as well as images.
By following this 5 step procedure, you have a really long, really great blog post about a topic that you're interested in that people are going to love.
How do you use content curation in your blogging? I'd love to know in the comments below!