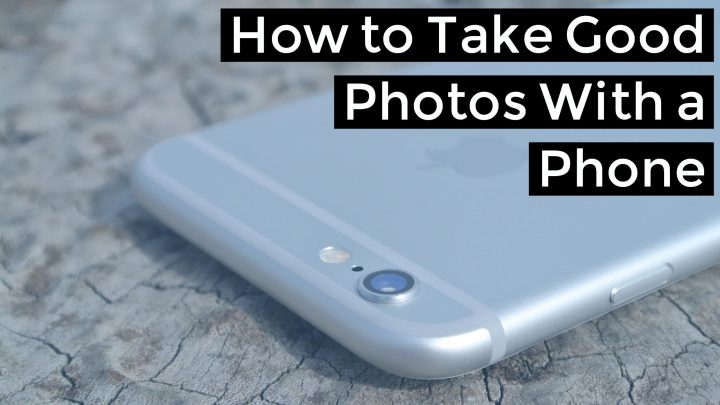 One of the ways that people use social media is to share photos. There's no reason why not to; researchers have found that information processed visually is more effective.
I know what you're thinking, "I'm not a photographer, so I can't create my own photos." Don't worry. You don't need to be an expert to make your photography the envy of your friends. All it takes is a few tips and tricks and you'll be good to go.
In addition, once you've learned how to take photos with your phone, you might be wondering, "What photos do I need to take?"
No problem!
I've created a little checklist that covers 4 different photos that you should take whenever possible so you can up your social media and online presence. Click here to grab it:
Master the basics
The folks at verizonwireless.com have put together a great list of basic tips for awesome photography. I've reproduced them here along with my own comments.
Get to know the camera
Every phone's camera works different. An iPhone's camera looks different from a Motorola phone or an LG phone. And this is not just because of the operating system. Play around to see what works best. And always practice taking pictures whenever you can.
Get close and fill the viewfinder
Make your subjects clear. Also don't use the zoom feature. This tends to pixelate the objects your trying to capture. If this happens, not even photo-editing software can make your shot better (believe me I've tried).
Remember the rule of thirds
I like to call this the Tic-Tac-Toe rule. Position whatever you're trying to capture at one of the four cross points onscreen. This lends an asymmetric edge to the photo and makes it more interesting.
Get the right light
Try to get the right natural lighting so there are no crazy light streaks or backlight shots. Otherwise the object of the photo will be either blurred or in the shadows.
Take photos with people
Shots with faces tend to have more energy than those without. Unless you're taking some great photos out in nature, it's better to have some smiling faces.
Keep the lens clean
This one's a bit of a "duhism", but it's true. If your smartphone camera lens is dirty, it's harder to take good photos.
Use photo-editing tools
Another good tip. I'll get into some photo editing tools in the next section.
Get the Right Tools
There are a couple of tools that you can use in order to ensure you have awesome photos:
This tool from Adobe is a professional-grade tool used by graphic designers. You can get it by paying $10/month (the Adobe Creative Cloud Photography Plan). You'll also receive Adobe Lightroom as well (more on that below). If you don't have money, you can look into GIMP, the open-sourced alternative.
While Adobe Photoshop is the most professional tool out there, it has a very steep learning curve. Unless you're really into photography, it might not work well for you.
You can get this tool by subscribing to the Photography Plan. Unlike Photoshop, Lightroom is much easier to use, and is particularly useful if you take photos with something other than your smartphone. Another benefit is the presence of Lightroom presets and plugins. My favorite is the LR/Instagram plugin, which lets me publish Lightroom-edited photos to Instagram.
The Canva app for iPhone (not on Android yet) has one particular feature called "Live Camera". This enables you to take a photo with your camera while having existing text on top. Think of it like reverse-Snapchat.
This is a nice and easy-to-use photo editing app. The settings appear as sliders on the right hand side so you can easily adjust the various elements. Then you have the option of saving it as a particular file type or sending it in an email or to the cloud. It's free and available for both Mac and Windows.
I use the Fotor app on my phone for three reasons: (1) they have a built- in camera which is better than the default camera; (2) it has awesome editing capabilities such as one-tap auto enhance, blurring, and dozens of filters; and (3) they have a built-in tool to create collages.
While mobile social media apps, these apps can also take great photos. The main advantage of these apps over the others is the ability to easily add typed text and drawings to the photo.
If you're an Android user like me, you'll love this app. Free to use with minimal ads (you can pay $1.99 to remove them), it comes with various graphics templates, fonts, filters, and frames. I especially love the ability to blur the background images so text stands out.
Quick-Fix Your Lighting

I mentioned before to get the right lighting. However, there are cases where sometimes you can't get it right. This is especially true if the light is coming from the front and there are light streaks across objects and people's faces. Here are four things you can do:
1)  You can reverse positions so that the lighting is better. This might not work if your preferred background isn't in the photograph but it's quick and easy.
2)  You can use the flash on your phone. This works, but the problem is when the flash causes red/white spots in peoples' eyes. In this case you will have manually remove it with photo-editing.
3)  You can use photo-editing software to darken the background and highlight the shadows. This might take some experimenting, but you can reduce the highlights, increase the shadows and exposure, and reduce the brightness to make your subjects more visible.
4)   You can convert it to black and white. This hides the bad lighting, but is not the best if there are certain colors you want to highlight.
Get the Right Dimensions
Each social media platform has certain optimal dimensions for sharing photos. It's best to resize your personal photos before you share them. Here are the pixel sizes if you're curious:
Twitter: 1024×502 px
Facebook: 940×788 px
Pinterest/Google+: 735×1102 px
LinkedIn: 700×400 (for LinkedIn Pulse headers)
Instagram: 1080×1080 px
Over to you
Know any other great photography tips? I'd love if you'd share in the comments below!
And before you head out, make sure to grab my checklist of the 4 photos you absolutely need to take with your smartphone: