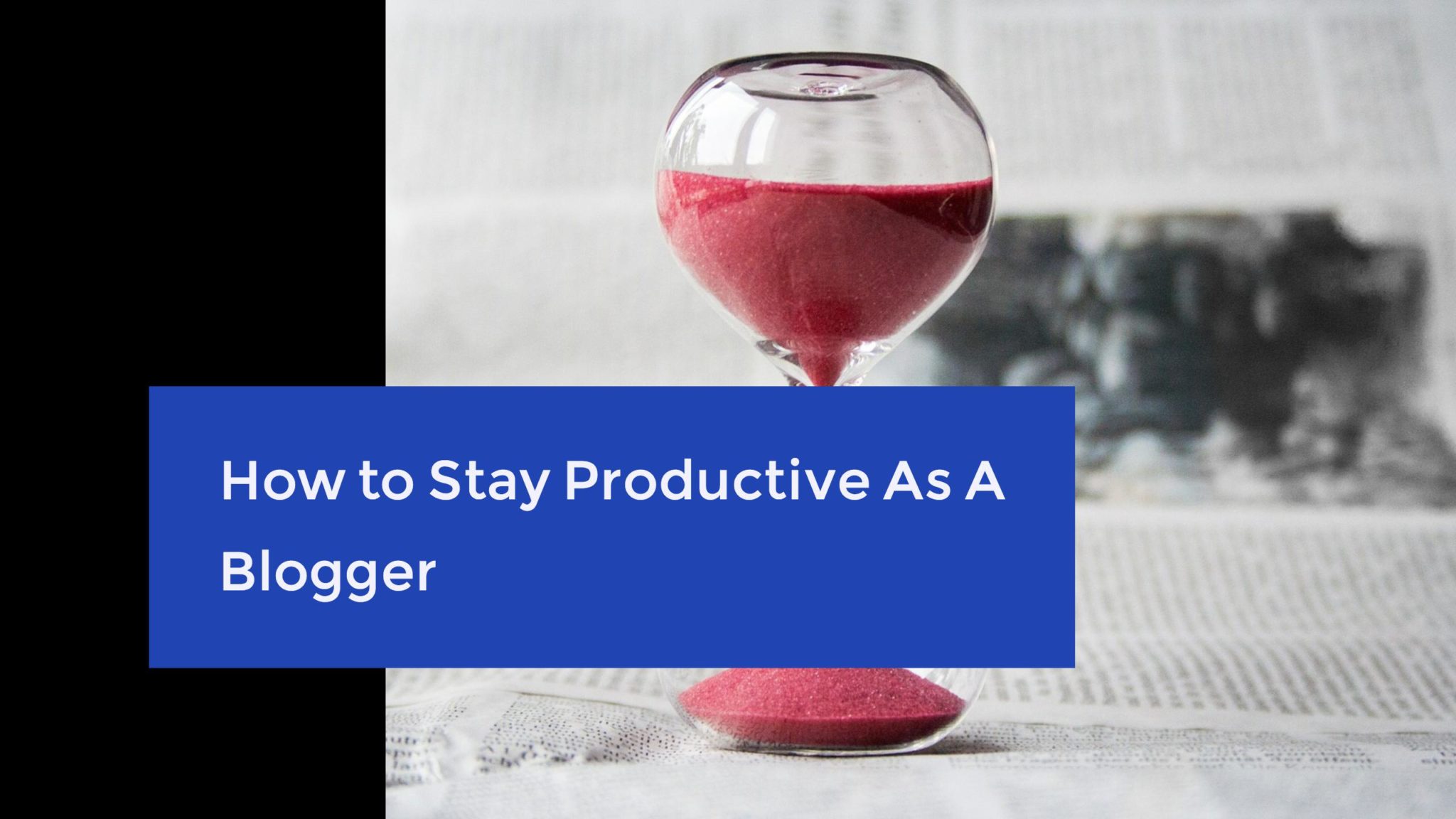 As a blogger, it can be hard to try to make yourself productive.
From managing social media to writing content, there are dozens of little things that you need to do.
Throw in the fact that the online world never takes a break and two things can happen. Either you get so overwhelmed with everything that you don't do anything, or you work around the clock and never take a break.
Neither of these is a good thing. So I'm going to explain some tips and tricks on how to become more focused and productive as a blogger.
Now, this post is going to be quite a long one (I think to date it's my longest post) as I'm covering all sorts of tools, tips, and the mindset of productivity. I also know that you might want to keep this information on hand.
So, I've created a PDF version of this exact same post that you can download and keep. Using this, you can reference these tips any time you want. If you're interested, just click here:
The Difference Between Being Productive And Working
Firrst, you need to understand the difference between being productive and working, because there is a difference.
Most of the time, we let ourselves be fooled into thinking that we're doing something meaningful. But oftentimes, what we're doing is just simply working. One reason is that we often think of productivity as a goal, whereas, according to Jess Whittlestone, it's the exact opposite:
The reason we really care about productivity—or the reason we should care—is that it allows us to do the things we care about as well and effectively as possible. Productivity isn't a goal, but rather a tool for better achieving our goals.
So how do you decide what is stuff you should do and what is stuff you can put aside? It starts with knowing why you're doing something. In other words, you need to be present and focused.
To be productive in the most meaningful sense, we need to be able to step back and ask ourselves what goals we really care about, and why. We need to be able to pay attention to how we're feeling at any given moment, acknowledge when we're distracted or unmotivated, and look to understand why and what we can do about it.
In the next section, we'll cover two basic principles to help you get more focused.
Basic Principles
To be productive requires more than simply wanting to be productive. You also have to have the right mindset and goals. Here are two from Thanh Pham.
Get Started With Small Stuff
When you're having an unproductive morning, do the little things. Start with the easy things that don't require much effort and before you know it, you have the momentum to get the big things done. Even if you don't, at least you got rid of those pesky little tasks. It's better than doing nothing!
Keep Yourself Going With A Timer
I know, I know…this seems so simple. But there's a big reason why you should use it.
The most important part of this trick is that you build momentum… As long as you can get past that initial friction point and build momentum, you're good to go. That's why timers work so well – they help you do both.
Feel like a timer is too constrictive? Try starting with just 5 minutes. You'd be surprised how much you can do with just 5 minutes of concentrated productive work.
Tools to Help You Stay Productive
If you want to be productive as a blogger, you're going to need several tools to help keep you going. Here are a few.
A Mobile Hotspot
These first three tools come from Mark Zeni. Almost everything that you do as a blogger involves you needing Wi-Fi – from publishing blog posts to doing social media promotions. And sometimes, that just isn't available.
[W]hile you may spend most of your time in your home or in coffee shops that have free public Wi-Fi, there are times when internet isn't readily available. Perhaps in the passenger seat on the way home from a weekend getaway or at the park with your kids.
Mobile hotspots give you Internet access wherever you are. This is useful for three reasons:
Less problems with spotty internet. If there's free Wi-Fi, you can bet you're not the only person on it. This might make connecting to the Internet difficult – and this can be important if you're in the middle of publishing large files like Youtube videos.
It's more secure. One of the big problems with free Wi-Fi is that since it's free, anybody can access it and grab your personal data. While there are things you can do to prevent this (such as using a VPN or limiting what sites you visit) it's better to be safe than sorry.
You're more focused. Since you're actually paying out-of-pocket for your Internet access, you're more likely to stay focused and actually do the work that you need to do.
There are two ways you can get a mobile hotspot. One is to purchase a separate Wifi device (also know as a Mifi or Mobile Wifi). The other is to use the personal hotspot on your smartphone. Both iOS and Android devices carry personal hotspots, though you may have to pay extra depending on your carrier.
One of the ways that you can keep yourself focused and on task is to use the right apps to improve your productivity. Mark recommends that you use a cloud-based storage system like Dropbox.
You're most likely familiar with Dropbox, but it simply lets you store files on the cloud so that they can be accessed from any of your devices.
Having a cloud-based storage is useful for keeping files accessible, but it also helps when you're collaborating with others. This way, you can all work off the same file rather than spend time email each other back and forth.
I love Pocket as a way to help keep myself focused when I'm offline. I often find myself doing more work and being more productive without the temptation to browse on the Internet. So what is Pocket?
Pocket is an app that lets you save articles that you run across on your phone and want to read later. This is helpful when you have those moments where you think, "Where did I read that article?"
Here are a few power tips when using Pocket:
Save any article using the browser extension. It's built in for Firefox, but there's also a great one for Chrome.
Use the recommended tab. This can help you find related stories that you can add without going down the internet rabbit hole.
Download the app for your computer/phone. This way, you'll always have an offline copy of articles you can work from.
This app not only enables you to store files, but it also allows you to plan out your workflow with a series of lists. Other features I like include:
Checklists so you can get everything done
Due dates so you know when something is due
Comments, which is great if you're working with a team
Need photos to use in your blog posts? Librestock is a free search engine that enables you to find photos that you can legally use.
I love Canva as a way for me to create all my graphics and ebooks free and easily. Two features I love are:
Drag and Drop Interface. No need to worry about complicated designing in Photoshop!
Built-in templates. This means I don't have to think when I need a graphic. I simply pick a template and then fill it in with my own details.
iPhone app. If there's anything better than making graphics easily, it's making graphics on the go!
This is a product that is similar to Canva, but has some other cool advantages:
Easy video creation. Using the iPhone app for Spark Post, you can create short 4 second videos. If you want a more robust tool, you can use Spark Video.
Lightroom integration. If you use Adobe Lightroom to edit photos, you can import those into Adobe Spark.
Ease of resizing. Unlike Canva, where you have to pay money to resize your images, Adobe Spark enables you to do this for free!
Facebook Live
Ok, you're probably scratching your head with this. But the way you can use Facebook Live to stay more productive is to do this: shoot a Facebook Live video around a topic you want to blog about, and then get a transcription of the video. You can then simply format the text and you have a blog post!
If you're looking for a service for transcription, you can use rev.com.
Extra Power Tips
Turn off Wifi
This can be hard, especially with everything being on Wifi. But if you don't need it (for example shooting a Youtube video or writing a blog post), turn it off. It can make a huge difference and prevent you from going down the rabbit hole of social media and browsing.
Turn off Phone Notifications
Not having your phone pinging you all the time can do wonders for your productivity. It also helps you sleep at night without feeling like you're missing out. For me, I turn off all my phone notifications for all of my social media accounts and email.
Don't Sleep with Your Phone
I learned this tip from Arianna Huffington in her book Thrive. What I do is I charge my phone outside of my room. To save battery and charge faster, I usually turn the phone off. If I need to wake up at a certain time, I simply use the physical alarm clock in my room. (Yes, I have a real alarm clock. I bought it for $8 at Walgreens and it's awesome!)
Over to you
What about you? What tips and tricks do you use when you're trying to be more productive. I'd love to hear them in the comments.
And if you haven't already, be sure to grab a copy of this blog post so you have these tips on hand later: