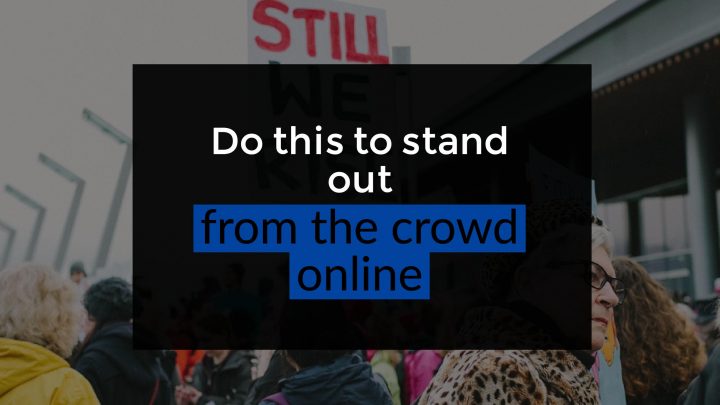 This post is the beginning of a three-part series where I talk about starting a blog and all the things you need. 
Have you thought about starting a blog but just haven't taken the time to do it?
Is it even worth starting a blog (especially today in 2017)?
It's not an easy task. Blogs take a lot of time and effort to maintain and provide a steady stream of content. However, there are some very specific benefits to why you should have a blog and that's what I'm covering in this blog post.
Note: If you want the whole blog post series in PDF format, click the button below:
1) It's an online resume
The first reason is that your blog is your online resume. These days people are more likely to see you online versus the traditional way with the resume.
Here's the reason why: when you first hear about people, what is the first thing that you do?
Most likely you actually go to Google and research with the person. Therefore, if you do not have a great online presence, people most likely will pass you by.
You need a blog so people hear about you online.
Click To Tweet
2) You can create content in multiple forms
The second reason why you need a blog is that it enables you to create content in multiple forms.
I'll be honest – most people aren't necessarily good with writing. For me, I'm much more comfortable speaking into a microphone or shooting a video than staring at a blank page.
A blog is more than just written words. You can also do Podcasts, YouTube videos, and even mini video courses.
You don't need to be good at writing to start a blog. There's so many more ways to create content.
Click To Tweet
3) Show your unique personality and strengths
The third reason why you need a blog is that it enables you to create content that shows your true personality and strengths.
One of the big flaws with traditional resumes is that it doesn't really give you a way to showcase your skills. A resume simply designs your information in a very square and regular design. This might be good if you're trying to blend in, but your goal is to stand out – precisely the opposite of what the resume does.
Your goal is to stand out from the crowd. That's why you need to blog.
Click To Tweet
So what kind of skills am I talking about?
I'm talking about the skills that are related to your credentials or your experience.
For example, let's say you studied something in the liberal arts but you happen to practice coding in your spare time. Based on your resume, someone might not even know that you have experience programming. By having a blog when you talk about programming, you'll be able to better display your skills and knowledge and therefore make a better impression on other people.
4) It's your own online property
The fourth reason why you should have a blog is because it's your own property. Unlike the social media networks like Facebook, Twitter, and Instagram, your blog is your own property that you control.
Your blog is your own property online.
Click To Tweet
If Facebook, Twitter, or Instagram decide to make any sort of changes (for example changes to the algorithm) you're not in control and you are at their mercy. With your blog you are in control and you dictate what type of content and format you produce.
5) Your blog can generate income
The last reason why you want to have a blog is because it can be a source of income for you. Believe it or not, you could actually make money from your blog.
Now this is not a reason for you to blog – in fact the main reason you should be blogging is to establish credibility and help others. But a blog can be a great source of either side income or your main income. A few ways that you can monetize your blog content are:
affiliate marketing
creating your own products and services
sponsored posts
advertising
Whatever method you choose to use, there is a way for you to make money online. But again, as I said before, your main goal should not be to make money. Rather your goal should be to establish credibility, help others, improve peoples' lives, and prove to the world that you have experience in what you do.
Make your goal with your blog to establish credibility and serve others.
Click To Tweet
I hope you guys enjoyed this article and in the next post, I'm going to be talking about the fundamental elements every blog should have.
Note: If you want the whole blog post series in PDF format, click the button below:
Additional Reading
4 Elements That Every Blog Should Have
The best tools for bloggers (including the ones I use)
Do you agree or disagree that you need a blog? Share in the comments below!