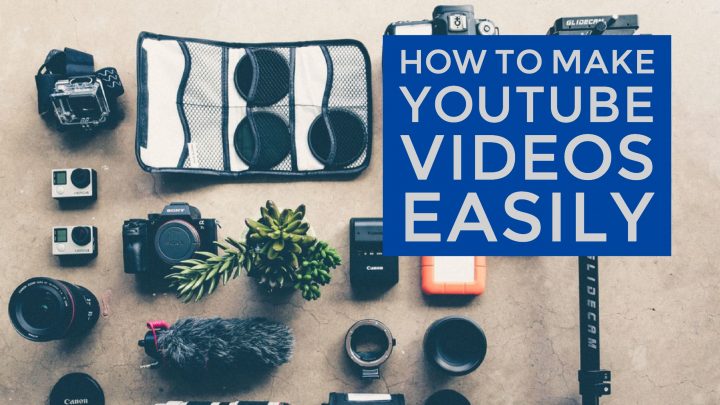 Trying to get started with making Youtube videos can be really hard and frustrating if you don't know what you're doing and if you don't know what you're going to share it.
In this post, I'm going to talk to you about three ways that you can get started making your videos very quick and easily.
How to Make Youtube Videos Easily
Have a plan before you shoot
This is kind of a "duhism" but have an actual plan for your Youtube videos before you actually start recording. If you don't know what you're going to say or what you're going to do, trust me, it's going
to be very very busy difficult to actually get started making your video.
I recommend that before you start, you outline and plan out your content before you actually press record on your camera.
One of the things that I love to do when i try and outline and prepare content is I like to use Microsoft Word. What I love about Microsoft Word is its outlining feature and its ability to easily drag and drop sections.
Now one of the most important elements of planning a Youtube video is knowing how to structure your video for maximum impact. So, to make this easier, I've created a free template that I use for my Youtube videos that you can use for yours! Click here to download it:
Use the Snapchat/Instagram Stories Tip
This is something I'm actually doing in the video above. This tip is called the Snapchat or Instagram Stories Tip, and it's very simple.
One of the things about Instagram Stories and Snapchat is that they both have a 10 second duration. 10 seconds is about the right amount of time for you to get your point across in a quick and concise manner.
So when you shoot your videos, try to keep the length of your clip no more than 10 seconds. It's plenty of time to get your point across and be concise.
Bonus tip: turn on your camera and wait a little bit before you speak. Otherwise it's going to cut off the beginning of your message.
Think beyond just clips
My third tip for helping you make videos faster is don't limit yourself to just video clips.
Don't forget that because video is visual, you can add other elements besides video clips to your video.
You can use pictures, graphics, and animated clips to enhance the video that you've already made.
There are two apps that I recommend you use in order to help you do this.
Canva
The first app is called Canva and it's a very quick and easy to use design program with lots of templates for you to choose from. If you choose to use Canva, make sure to select the YouTube thumbnail templates so that you have the right dimensions for your video.
Legend
The second tool that I recommend to help you enhance your videos is one of my absolute favorite phone apps and it's called Legend.
One of the great things about Legend is that you can make videos out of simply text and pictures.
The best part about it?
You don't actually have to be on camera.
Over to you
What tips do you have for making Youtube videos faster? I'd love to hear them in the comments below. And if you're still stuck on how to structure your videos, be sure to grab my Youtube video template checklist: