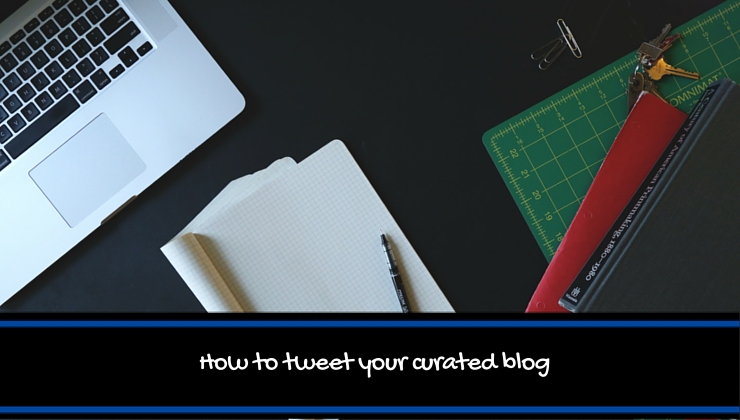 Twitter is my favorite social network for several reasons.
It's easy to build a platform. Thanks to the Twitter advanced search and hashtags, there are various ways for people to find your content.
The short nature of Twitter means writing posts is easy.
Custom searches and hashtags make finding other content easy as well. This is especially useful on Twitter clients like Tweetdeck.
There is one problem. Because Twitter moves so fast, it requires large amounts of tweets in order to be effective.
How many? Anywhere from 25-100 posts.
That big number might scare you away from trying to use Twitter. Don't panic.
One of the great things about Twitter is that while it requires large amounts of posts, you can easily create 5-10 or more tweets from one blog post. I'll share with you several different ways you can leverage your content to keep your Twitter followers happy.
Using Buffer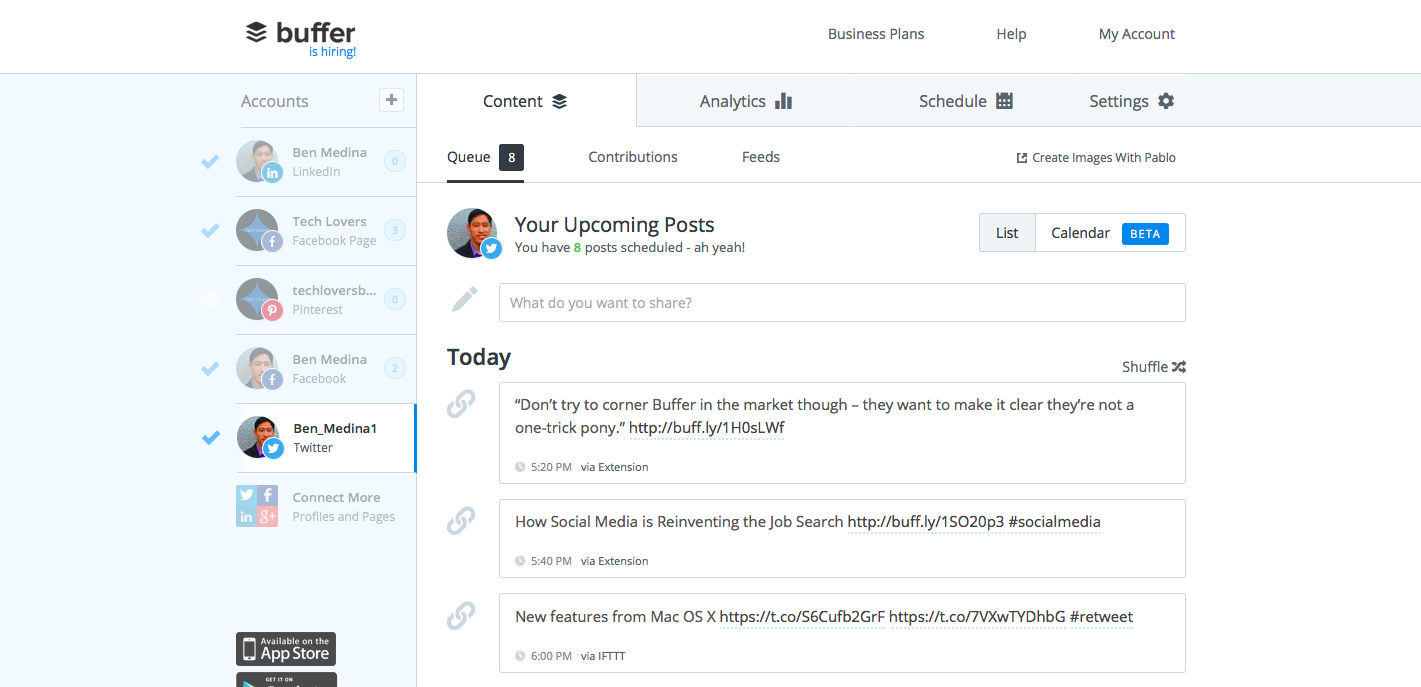 All of the techniques that I'll show you involve using Buffer.
What is Buffer? It's a quick and easy way to manage social media. Think of it as a one-stop social-media HQ.
There are other social media management tools like Hootsuite, Sprout Social, AgoraPulse, and Social Oomph. However, I highly recommend Buffer for 4 reasons:
Buffer Analytics enables you to find the best tweets in your history. Thanks to this, you can refill your queue quickly with the best content. This is useful if you don't have time to schedule your posts.
Buffer's free plan enables you 10 posts in your queue and 1 profile per platform. This might be all that you need. If you want more functionality, it only costs $100 a year, which is great. ($100 gets you the social media calendar, RSS feed integration, and unlimited queues.)
Buffer has Pablo, a built-in graphic tool. This means that when sharing your post, you can move from creating a graphic to sharing it almost instantly.
The Buffer Calendar gives a great visual overview of your tweets.

Click on Calendar to access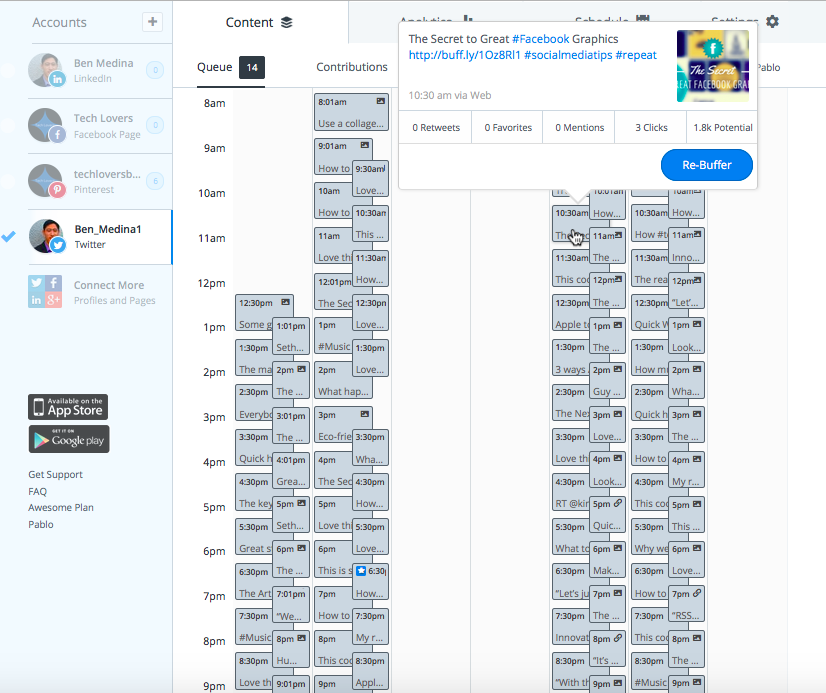 To get started with Buffer, all you have to do is go to their website and make an account. After that, you can create your schedules. There are three ways to do this:
Manually add times to the queue. This works if you only want certain times to post. Since you need to tweet a lot, scheduling multiple times manually can be very time-consuming.

Editing schedule manually

Use the Bufferti.me website. This extension enables you to create a schedule in bulk.

The Buffti.me website. Notice the options for customizing schedules

You can have Buffer optimize your schedule for you. Simply click on the bottom of the schedule. It will then ask you for the number of times to post and the account you want to optimize.
General best practices for Twitter
Like most social media sites, Twitter has certain best practices that will enable you to reach as many people as possible.
Keep tweets short. Don't try to use all 140 characters. Leave some room in case people want to manually retweet your stuff.
Utilize hashtags. Hashtags enable your content to connect with others around the world. This makes it possible for your stuff to be seen by people who don't follow you.
If people retweet, comment, or mention you, make sure to respond. These actions enable you to connect with people. In time, they might share more of your stuff.
The two ways to tweet out your blog posts
1. Tweet out the page title
This is the quickest way to send out your blog post, and it's usually the most common one. There are two ways you can do this.
You can use the "Tweet this" button on your post.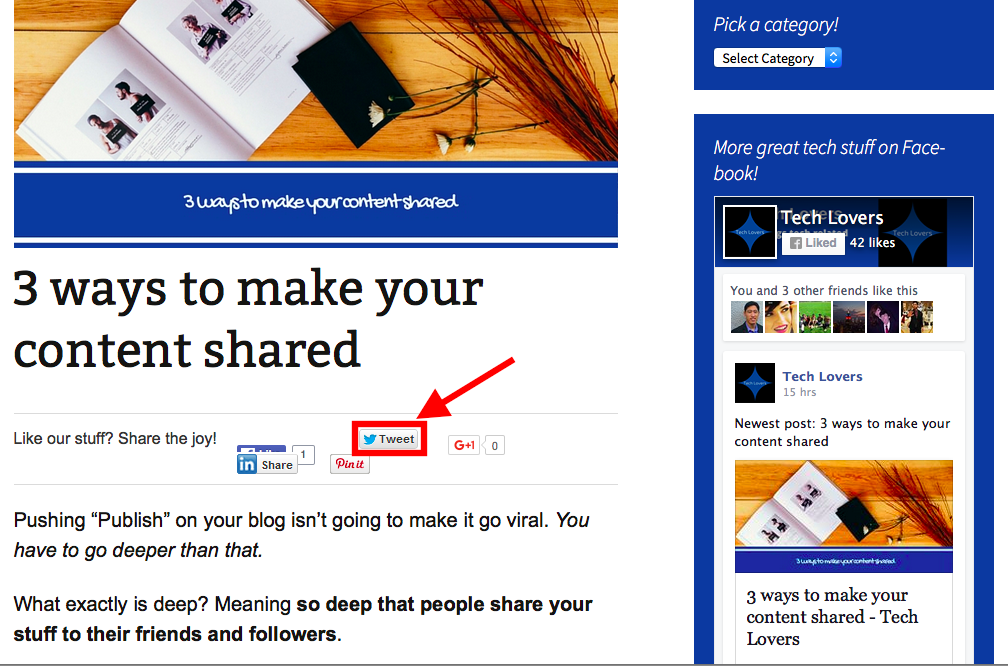 If you want social media traffic of any kind, you want to enable some sort of social media sharing on your blog. Examples include Ultimate Social Media Icons, Floating Social Bar, and Social Warfare. All you have to do is click on the button that tweets the article.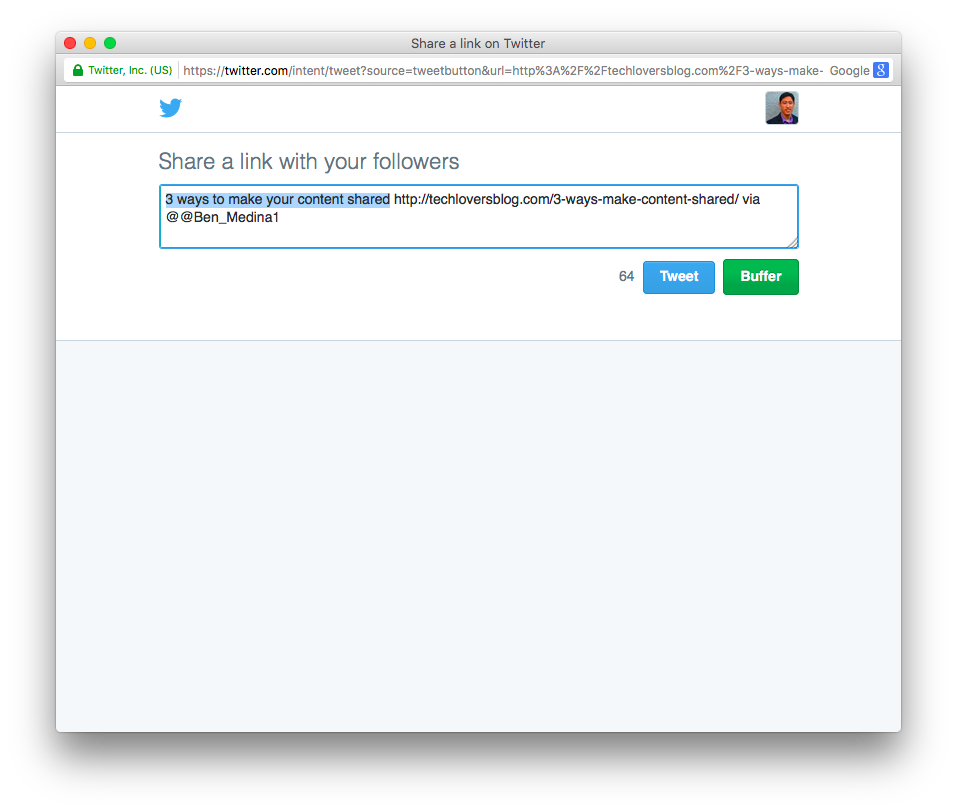 Use the Buffer browser extension.
This will grab the title of the post and link.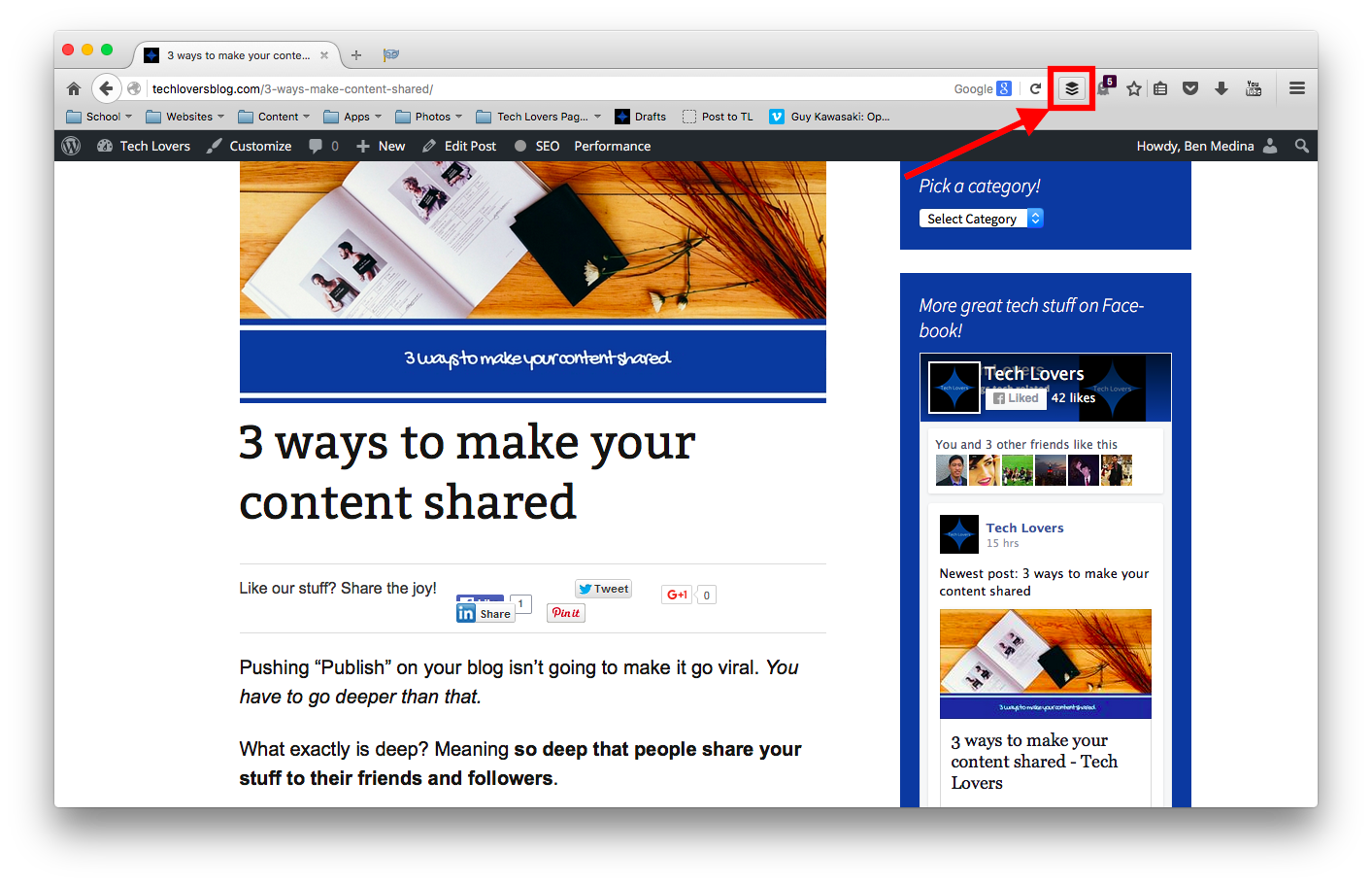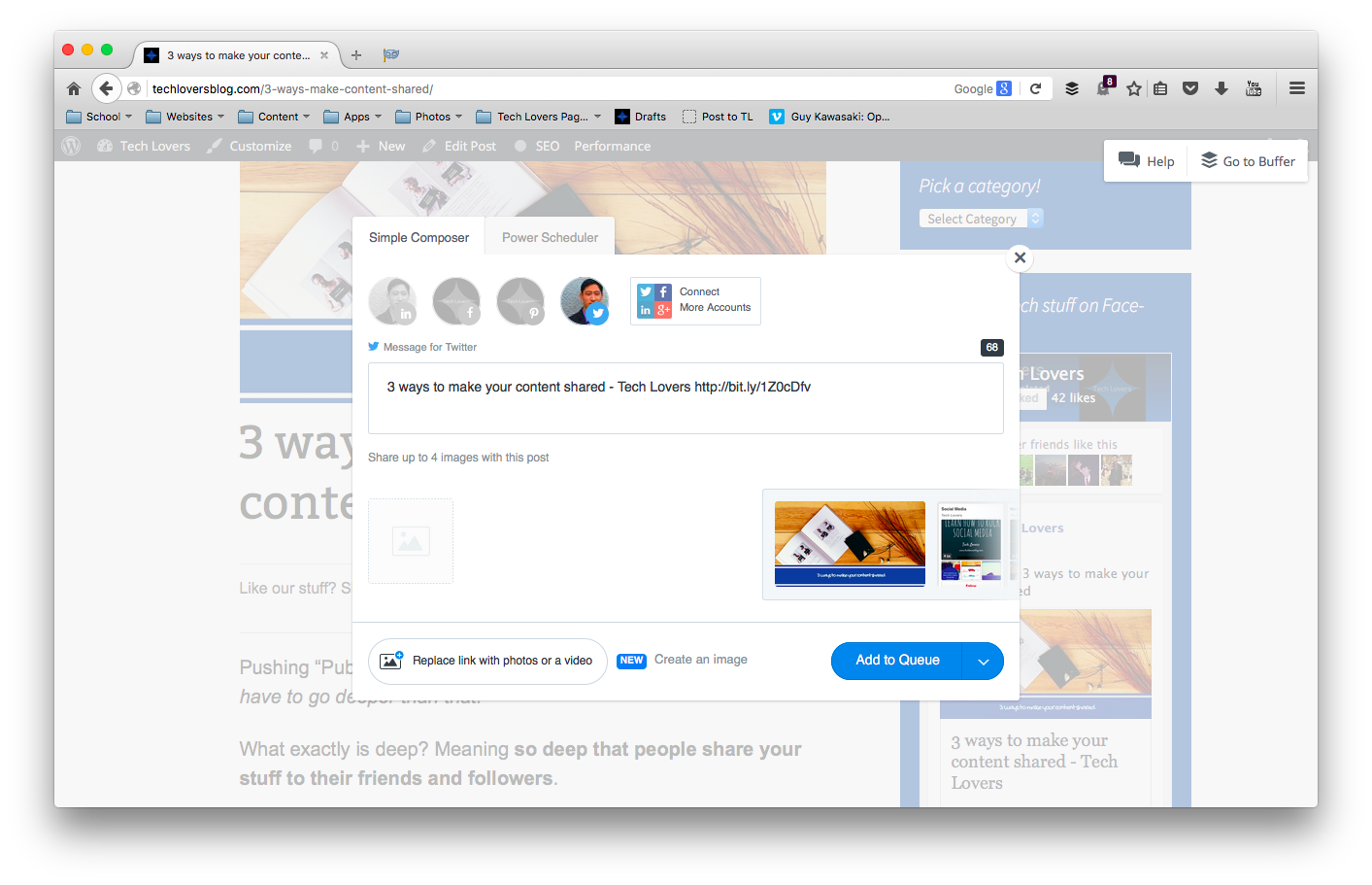 Similar to how you can tweet out the title of the blog post, you can also tweet out quotes. To tweet out quotes, you can highlight the text then click on the Buffer extension. If necessary, edit the text so it fits under 140 characters.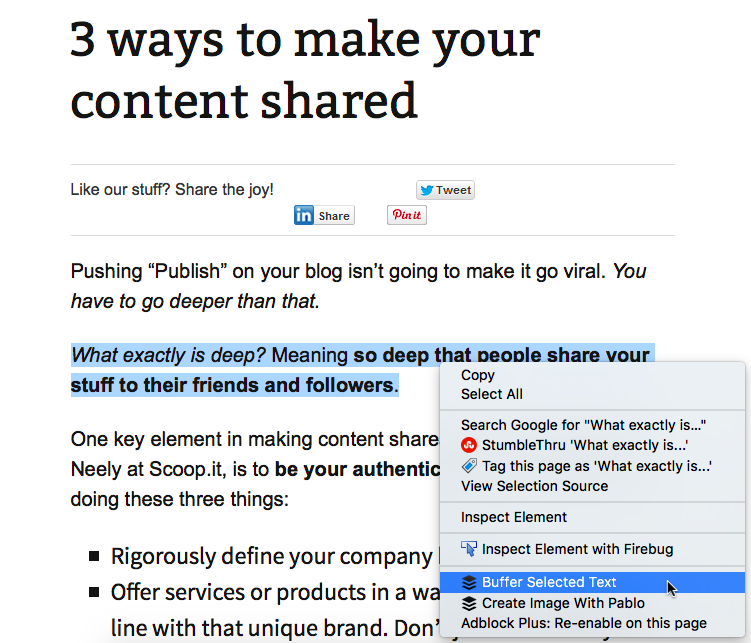 Power tip: Stuck on what to use for a quote? Try finding some text that is either bolded or in italics.
2. Tweet out with an image
Studies have shown that visual content receives over 150% more retweets. Given this data, it would make sense that you share your tweets with images. Images are also great when the text you have selected cannot fit in 140 characters.
There are three ways you can add images to your tweet.
Right click an image
All you have to do is right-click an image and select "Buffer this image."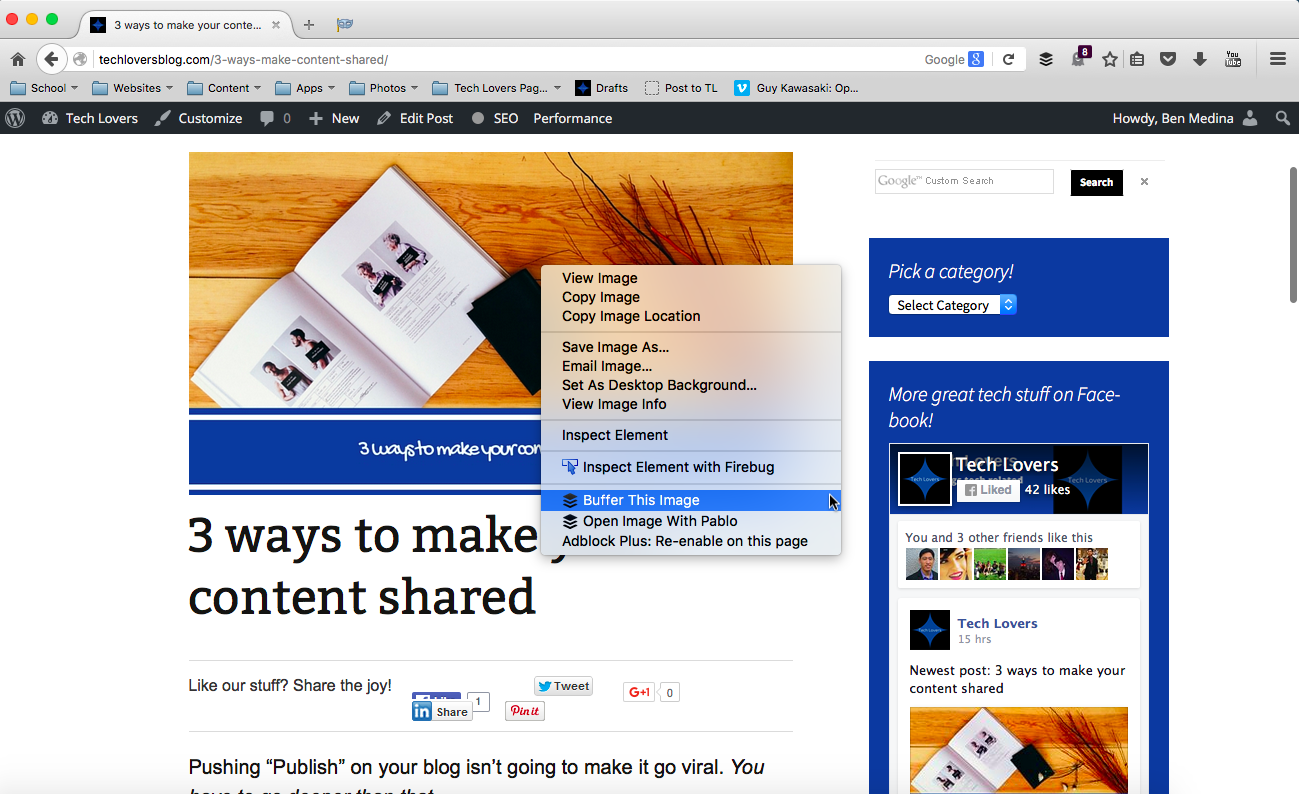 You can also do this by clicking on the Buffer extension, then selecting a picture from the options in the lower right-hand corner.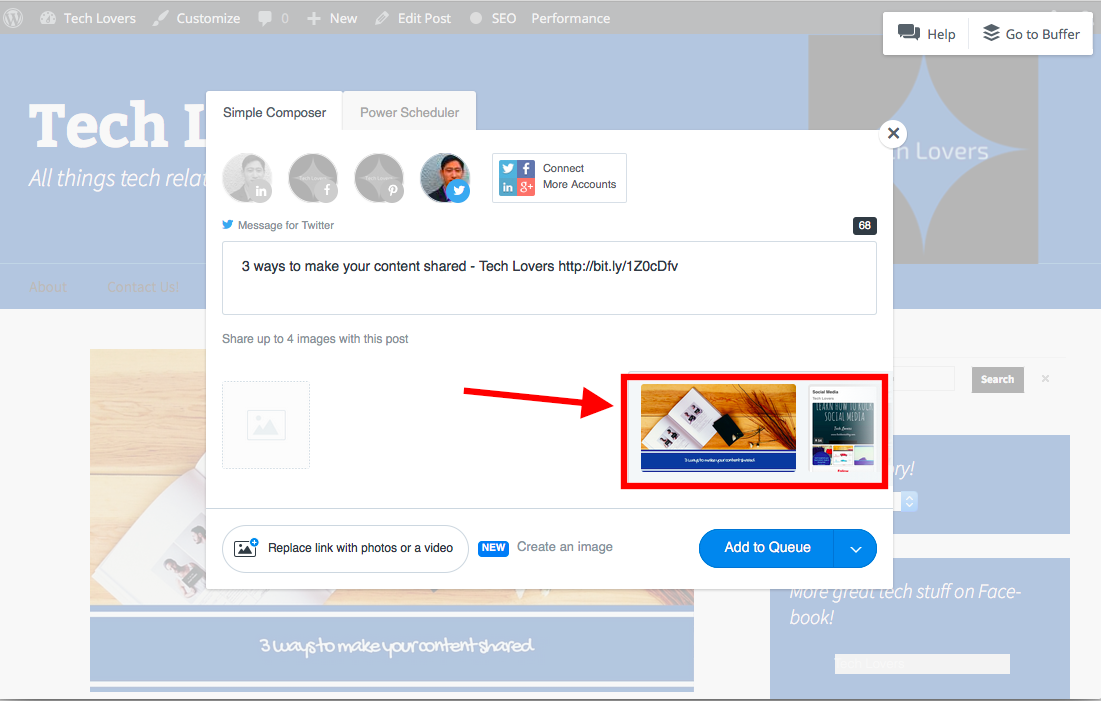 Take a screenshot
One very great app for this is Captur; another app you can use is Lightshot Screenshot. If the text you want to tweet is longer than 140 characters, you can take a screenshot of the section of the article. This also works well with blockquotes.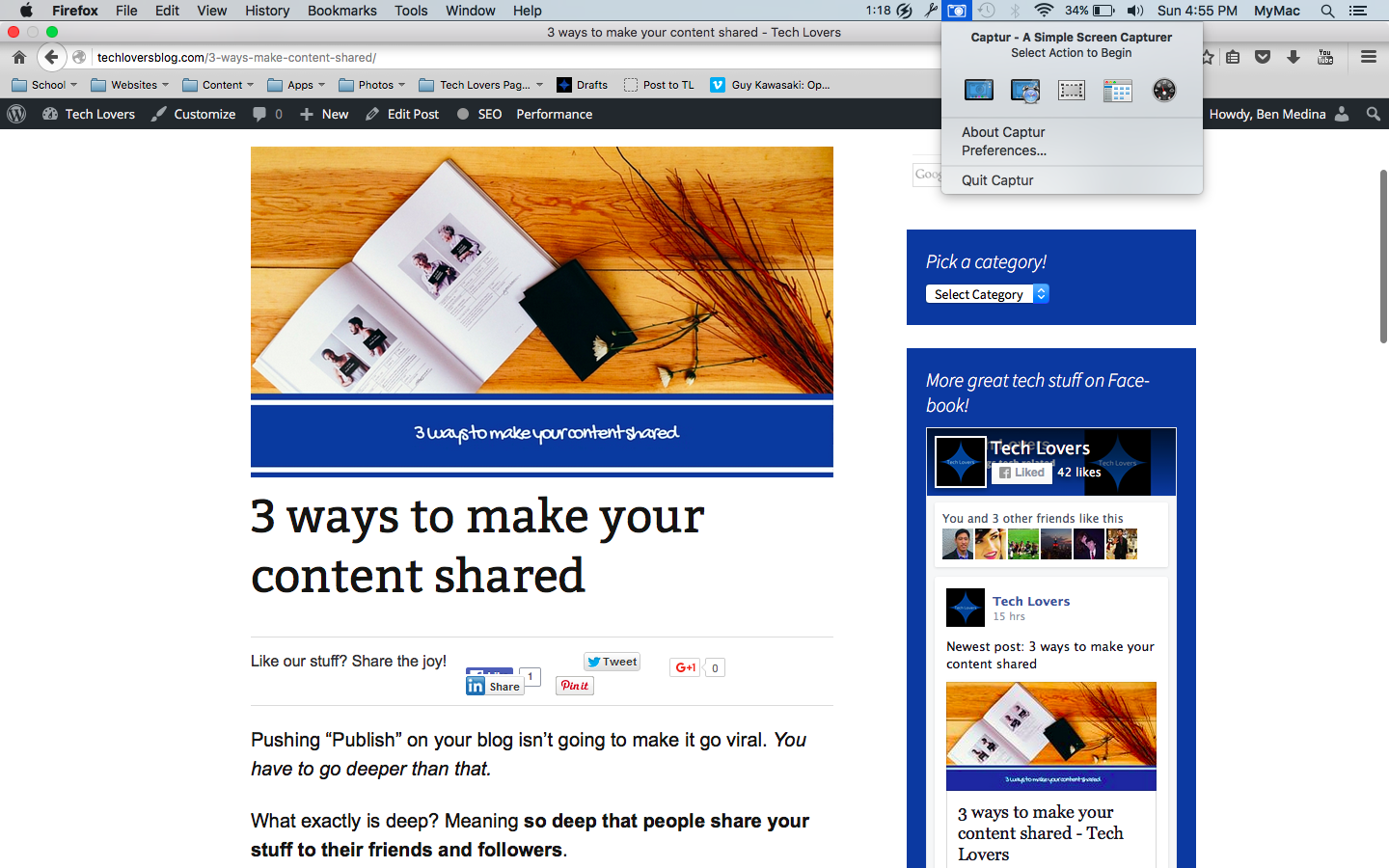 Use Pablo to create an image.
You can do this by highlighting the text, right-clicking and selecting "Create image with Pablo."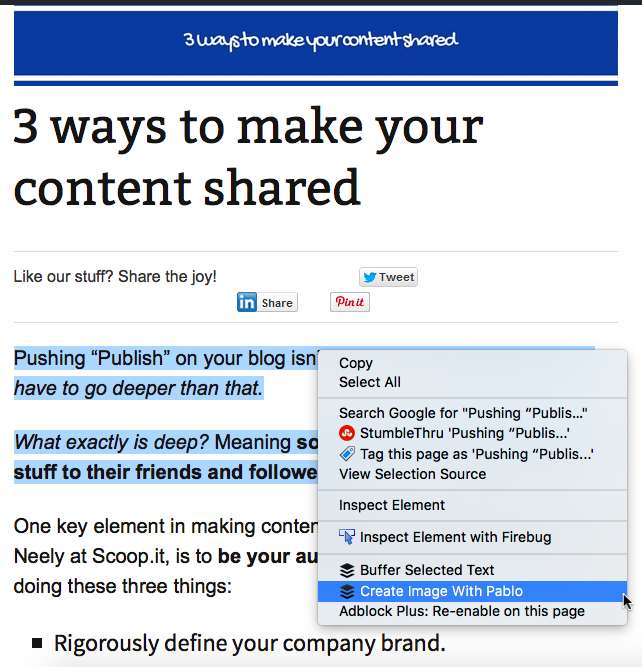 Power tip: Twitter allows up to 4 images per tweet. When you can, try adding multiple pictures. One easy way is to break up a sentence or quote into 4 parts and make an image for each. Pablo works really well for this.
How do you tweet out your content?