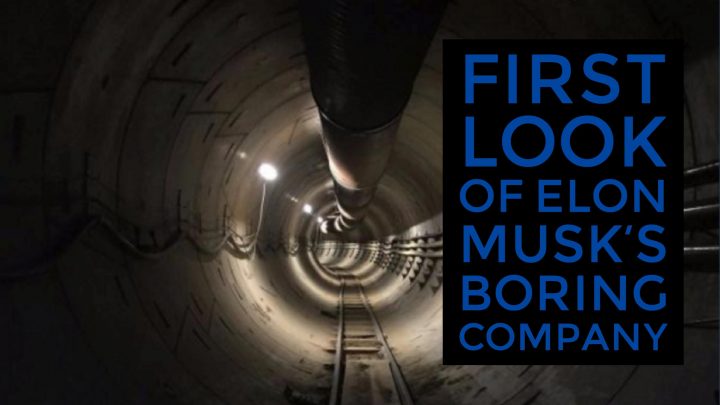 This was a guest post by Selim Chehimi, who has his own tech blog focused on Artificial Intelligence. Go and check it out at selimchehimi.com.
Traffic has spawned another idea from the mind of Elon Musk: The Boring Company, a tunnel construction company in late 2016 that is aimed at improving tunneling speed by somewhere between 500 and 1000 %.
Where it began
The project began on Musk's Twitter after a tweet mentioning that he was upset by traffic in LA. He decided to build a 3-D network of tunnels to overcome the limitations of a 2-D network.
The Boring Company started digging under SpaceX's headquarters in Hawthorne, California. They began with a test tunnel of 49-m (160-feet) and got a permission to go forward with a 3.2-km (2 miles) tunneling project. After five months of digging, they just finished a portion of the tunnel that Musk proudly posted on Instagram: "The Boring Company tunnel under LA".
To dig the tunnels, the company is using a specialized machine called "Godot", a Tunnel Boring Machine (TBM) that is weighing 109.000 kg and measuring 122 meters (400 feet) long. However, Godot is not just a simple TBM because it has been re-engineered to dig faster than current ones do.
Aside from making the digging process more efficient, the Boring company's vision includes building little electric car carrying platforms that can take both people and cars across the city at speeds of 200 km/h (125 mph). The long-term vision of the company is to reduce heavy traffic and provide faster access to the city's airports.
Obstacles in its way
Los Angeles Mayor Eric Garcetti is supporting the project, so it is much easier to get it done. However, there are many obstacles to overcome. First of all, a lot of engineering is needed to deal with the little car carrying platforms. Not to mention the geological and seismological challenges that need to be overcome. And dealing with all the ventilation requirements to ensure that fresh air flows along the tunnels with minimum fire risks.
If the venture turns out to be successful, it could open a whole world of opportunities. For instance, one can imagine that these massive holes in the Earth could host a Hyperloop system: Musk's concept for a futuristic subsonic train. A Hyperloop could disrupt city transportation by getting you from LA to San Francisco under 30 minutes. With SpaceX and Tesla, Musk is positioning himself as the modern-day transportation leader.
Photo credit: Elon Musk Instagram