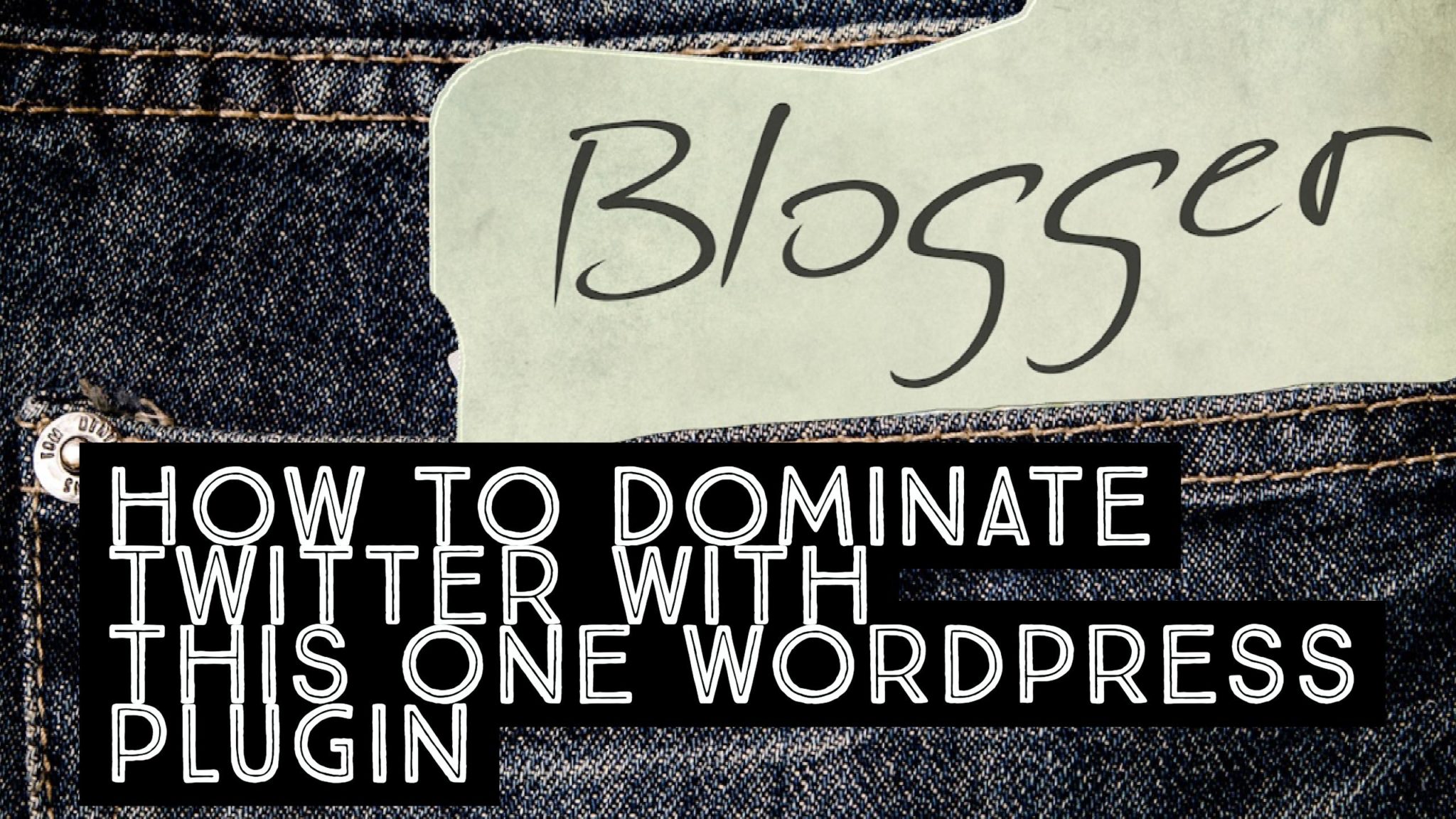 One of the beautiful things about blogging is that you can establish authority for yourself, establish your voice, and really show the world who you are and what you're interested in. However, one of the big problems with blogging is in order for people to see your blog, you need to share it.
Blogging establishes your authority and enables people to understand who you are!
Click To Tweet
Twitter is a great place to share your blog. But, with the latest algorithms and changes, it can be a little hard to get your content seen.
I'm going to show you a quick little trick that any blogger can use in order to drive more traffic to a particular blog post. This is using the Click to Tweet Plugin from WordPress.
Note: Click to Tweet is an awesome plugin, but if you really want to take your website to the next level, there are 7 other plugins that you'll need. Click below to learn them:
Why Should I Use Click To Tweet?
The first thing you might be asking is "Why should I use this plugin?" There are three reasons.
It Creates More Twitter Shares
If you use this plugin it will enable more people to see it in your article. This is because they will click it and tweet out your article.
The beautiful thing about this compared to other methods is that this is organic. This is native to Twitter. You don't have to pay any ads or spend any money; it's completely organic.
You Control The Message On Twitter
This is very powerful because you can actually control what people are going to be saying about you and your blog post when they tweet out your message. In other words, you can specify what is the thing you want people to hear and really fine tune your messaging on Twitter.
It Builds Blog Authority
When people tweet out the link to your blog post, more people will see it, comment on it, and check out your blog. When you get more blog traffic that leads to a whole host of other things: more shares, more email opt-ins, and more traffic. This creates a wonderful upward spiral.
It Creates Great Traffic To Your Blog
People who click the Click To Tweet box have several characteristics. These are people who actually care about your blog. They've actually read it, they've clicked on the thing, and they want to share your blog post. And the more people who actually care about your blog the more good traffic will come.
The more people who actually care about your blog the more good traffic will come.
Click To Tweet
Okay, so how do you use this plugin? Here is how you do it.
How To Add The Click-To-Tweet Plugin
1) Add The Plugin To Your WordPress Dashboard
All you have to do is just search in the WordPress dashboard. If you go to "Plugins"->Add New, just search "Click to Tweet" and you will find this plugin.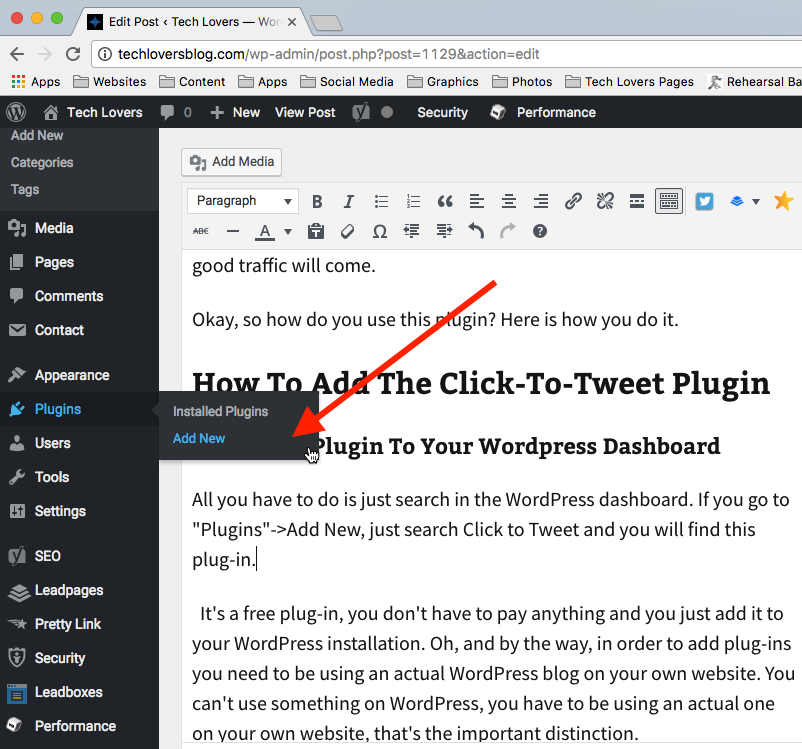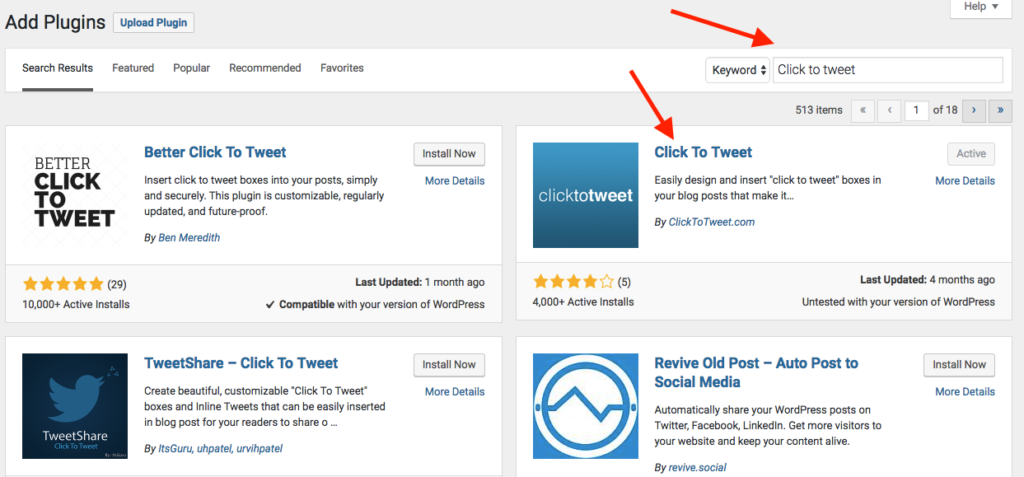 It's a free plugin so you don't have to pay anything.
In order to add plugins you need to be using an actual WordPress blog on your own website. You can't use a website on WordPress.com. If you don't have one, you can head over to Bluehost (aff) and start one right now.
2) Add Click-To-Tweet Boxes To Your Blog Posts
One of the beautiful things about the Click To Tweet Plugin is that it's automatically enabled in the WordPress editor. This makes it very clean and easy to access.
When you're composing your blog post you can just click this little button and it will actually integrate whatever you are trying to create in the Click to Tweet Plug-in.

The next thing of course is, "Okay then, you want me to add it to WordPress, you want me to go on using this. What do I use the Click to Tweet for?" So I'm going to give you three things you can use this plugin for.
What To Use Click To Tweet For
Quotes
The first thing you can use Click To Tweet for is quotes. Yeah, you can actually share quotes from your blog and have people tweet them out. A power tip for this is you want to be using bolded text.
Use bolded text to quote your blog post with Click To Tweet!
Click To Tweet
Elaboration
The second thing you want to use is elaboration. Let's say you talk about a particular subject. You can actually use the Click to Tweet to add more information.
The beautiful thing about elaboration as opposed to simple quotes is that it builds a sense of anticipation and a sense of interest. That makes it a great way to use the Click to Tweet Plugin.
If you have something valuable on your blog post, elaborate your message and make it more valuable!
Click To Tweet
Tweet Out Stats
This trick I learned from Kim Garst, who has a great article on how to use Click to Tweet (this is a different plugin but it does the same thing). She recommends you actually tweet out stats.
For example, if you are doing a particular study or something involving statistics. This is a great way for you to utilize those statistics and get more people to check out your blog post.
Over to you!
Have you tried using this plugin for WordPress? Let me know in the comments below! And before you leave, be sure to grab my checklist containing the 7 other WordPress plugins that you'll need for an awesome website: