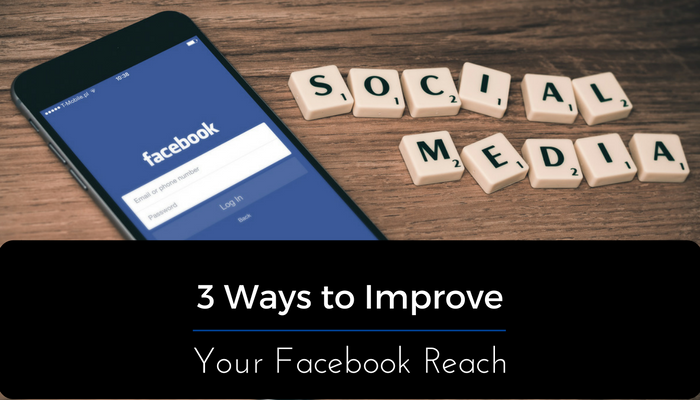 It's no secret that Facebook is decreasing the reach of Facebook pages in order for them to pay lots of money. But if you don't have much money, what do you do? Here are three ways that you can improve your reach on Facebook.
1. Use Facebook Live
Facebook Live originally came out last year, and today it's one of the hottest tools in social media. Facebook Live also helps you drive better traffic to your website as well as give you more reach on Facebook. Yet many people haven't tried it and even more don't know how to use it. Here are few ways you can use Facebook Live:
Blog Excerpt
To give an excerpt from your blog post, all you have to do is turn on your phone and explain one point. If it's a lengthy article you can use an excerpt. For example, if I were doing a Facebook Live for this post, I'd share one of these three ways. Afterwards, you can link to the blog post in the description or in the comments.
Behind the Scenes
Someone's always interested in the back life of someone else. Don't be afraid to open up and show other people what you're doing. Remember that you need to make sure that you are providing value to other people's lives, not showing off.
For example, I've done Facebook Live videos of what I carry in my bag, where I'm working from, or what I'm using right now.
iHome iBT72iHome iBT72

Buy it here: http://www.amazon.com/iHome-Rechargeable-Bluetooth-Speaker-System/dp/B00OXUH1ZK

Posted by Tech Lovers on Thursday, April 21, 2016
Tutorials and Demos
The third way you can use Facebook Live is by giving tutorials and demos of your products and services. It's one thing to hear someone talk about a product or service and it's another thing to actually see it live. If you're selling a product, show people how your stuff works and they'll be more likely to use it. If you're selling services, you can give demos of how you do stuff.
Tips and Tricks
Everybody loves a good tip or trick. This is one of the easiest ways for you to do a Facebook Live video because everybody always wants a better way to do something. Depending on your industry, you can give tips and tricks to the most common problems that you or your followers face.
If you're interested in seeing examples of Facebook Live, you can check out the Video section of the Tech Lovers Facebook Page.
2. Post Tips and Quotes
As I mentioned before, everybody loves good tips. Another thing they love are quotes.
The best way to share these is through image graphics. When you add a quote,you should always attribute the person, especially when the quote is not your own. If it's not your own, you can skip this step.
Here are a few different places that you can find quotes to share:
Blog Posts
Your own blog content is some of the best places for you to find quotes. If you're having trouble wondering what text to use, try looking for a place that has either bold or italics text.
Quotery.com
Quotery.com is a website that has a gigantic database of quotes that you can use you can either. You can either search for quotes or look in their different topics.
Alltop.com
The third place to find good quotes to use and one that is always available is quotation.alltop.com. The best part about this website is that this page contains different locations for quotes. This means you can always find something different.
3. Use Facebook Insights
Facebook Insight is one of the most powerful tools that you have to be able to improve the reach of your Facebook page. Here are two ways that you can use Facebook insights.
Look For Weekly Reach And Engagement
These are the stats you should use when judging which Facebook post(s) you should repeat.
Experiment With Different Posting Types
Facebook allows you to post different types of posts including videos, polls, pictures, and links. If you're having trouble getting good reach, try experimenting with different types of posts. Here are a few different ways:
Change How You Post a Link
When you share a blog post, post 2 times: once with a picture and once with the embedded link. Then check your Facebook Insights to see which post got more engagement/reach.
Try Enabling Facebook Instant Articles
Facebook create this type of article to allow a better experience on mobile devices. To install Instant Articles on your blog, you can use this WordPress plugin.
Upload Video
Video is one of the most popular types of posts on Facebook. In fact, there are over 100 million videos uploaded. Here are two ways you can create video very easily without being on camera:
Adobe Spark Video. This web based client ( there is an iOS app also) allows you to make videos with pictures, text, and even voice-overs.