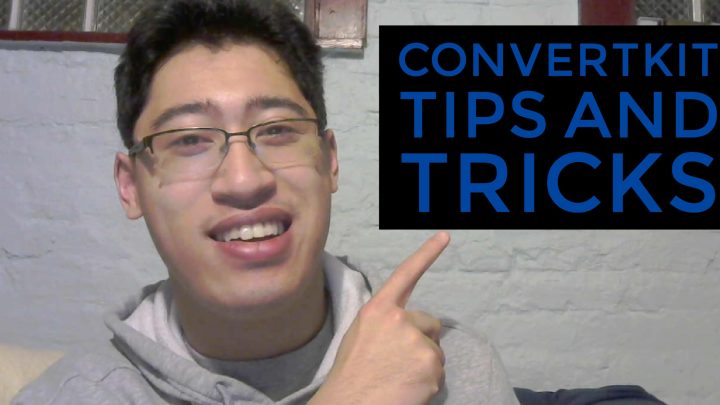 Today I am talking about my absolute favorite email marketing software, the one I use right now – Convertkit.
Whether you use ConvertKit or not, there are basically 3 tips that you want to use if you are running email marketing campaigns.

3 of My Favorite Convertkit Tips and Tricks
Be natural and simple
Nathan Barry, the founder of ConvertKit, talks about this a lot. You want your emails to be looking like you are writing them in Gmail.
In other words, be very personal.
That's one of the reasons why ConvertKit, unlike other marketing software companies like MailChimp, AWeber, GetResponse, and Infusionsoft, does not have templates.
You want your email to look natural and flow the way that you would normally write email.
If you think about it, email is arguably the most personal social network that exists. Because we don't want to give out our email addresses.
It's not just social stuff that comes in our email. It's also:
receipts
notifications
events
invitations to events
Email is also incredibly personal and private.
I like to equate having a database of emails to having a database in your contacts. One of the big reasons why you want to build an email list is so you have a direct connection.
An analogy is if you go to a party and you see a really great person you think is pretty cool. And let's say you happen to hear that they're a friend of your friend.
If you want to keep in contact with them, you'd want to get their phone number or email.
Why?
Because you don't want to be relying on your friend to constantly talk to their friend that you want to contact. You want to have a direct connection, and email is a direct connection with you and your audience.
Therefore, because it's a direct connection, you need to respect your recipients.
The best way to respect it is to write your emails simply and naturally, just like as if you are writing it to one person.
Use heading tags
One of the problems of email is that we all get a lot of it. I get a lot of it.
Email is like social media that people just open up and scan through. Then maybe they'll look at it, maybe they won't.
Let's say you're writing a really long email, because you're trying to tell a story.
A great way to still keep people's attention is to treat it like a blog post and put heading tags.
This breaks up the email and makes it's easy for the person to read through and understand what you're talking about.
Keep links on separate lines
This tip I learned from Pat Flynn. He recommends that if you have any links (let's say to a blog post, sales page, or a YouTube video) that you keep your links on separate lines.
The reason why is a very practical one. Which is that most people look at email on their phones. If you're using a smartphone, for example, it has a relatively small screen.
Putting the links on a separate line is a great way to ensure that they click on it, and they don't click on it accidentally, especially on mobile devices.
Final thoughts
If you use those three tips, you will really rock your email marketing. If you are not on ConvertKit, and you would like to check it out, just click here (FYI, if you choose to purchase it, I will make a small commission; just want to be totally upfront).