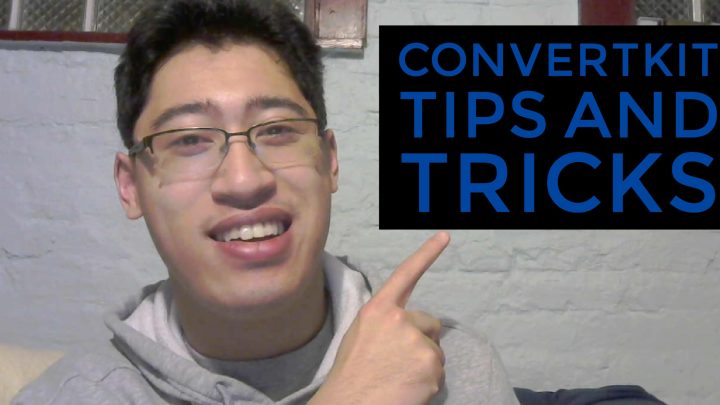 Video description:
If you've ever wondered how to use Convertkit for email marketing, email automation, or marketing automation, this Convertkit demo is for you. I'm going to cover my top 3 Convertkit tips and tricks so you can learn how to use it in the most optimal way.
Check out Convertkit (aff): http://techloversblog.com/convertkit
Pat Flynn's Demo of Convertkit: https://www.youtube.com/watch?v=PMHUWKBT1Lk
A few of my FREE resources:
Resources page: http://techloversblog.com/resources/
FB Live Toolkit: http://techloversblog.com/toolkit/
FB Ads Targeting Guide: http://techloversblog.com/fbad-guide/

Transcription:
I think we are live. Hello YouTube. How are you guys all doing today? It's a bit of a late livestream for me. Last YouTube Live I did really had a great response. I'm happy to do another one. For those of you guys who don't know me, my name is Ben Medina. I am a tech blogger. I am the founder of techloversblog.com. Today I am talking about my absolute favorite email marketing software, the one I use right now. It is ConvertKit. Sadly, I wish I was wearing the ConvertKit T-shirt I have, ConvertKit T-shirt with me. But I think it's in the laundry. I'm actually in my basement right now, so it's all the way over there. Yeah. You can see I'm really giggly and stuff.
You probably tell this is my basement, because this is the background that I use for a lot of my YouTube videos. That aside. Okay. I thought I would talk about three tips for … Whether you use ConvertKit or not, these are basically basic tips that you want to use if you are running email marketing campaigns. The first one is to be natural and simple. Nathan Barry, who actually is the founder of ConvertKit, talks about this a lot. Which is that you want your emails to be looking like you are writing them in Gmail or be very personal. That's one of the reasons why ConvertKit, unlike a lot of other marketing software companies like MailChimp, AWeber, GetResponse, Infusionsoft, a lot of these have templates. ConvertKit does not have templates. The main reason is, you want it to look like natural and it's almost as if you want it to flow the way that you would normally write email.
It makes sense if you think about it, because email is arguably the most personal social network that exists. Because we don't want to give out our email addresses. It's not just social stuff that comes in our email, it's also receipts, and notifications, and events, and invitations to events. There's all this stuff that comes to the email setup. It's also incredibly personal and private. I like to equate having a database of emails, it's like having a database in your contacts. One of the big reasons why you want to build an email list is so you have a direct connection. An analogy I like to use is, if you go to a party, and you see a really great person, guy or girl that you think is pretty cool. You happen to hear that they're a friend of your friend.
You would naturally, if you want to keep in contact with them, you'd want to get their phone number or email. Because you don't want to be relying on your friend to constantly talk to their friend that you want to contact. Because they might be sick, maybe your friendship has some issues, and he doesn't want to talk to you. There's all these things. You want to have a direct connection. Email is like that. That is a direct connection with you and your audience. Therefore, because it's a direct connection, you need to respect your recipients. The best way to respect it is to write your emails simply and naturally, just like as if you are writing it to … You open up Gmail, and you just maybe type something. It's very easy using ConvertKit. It's personalizing it with a very good … Personalizing introduction. Instead of saying, "Hi," or, "Hello," or, "I hope I'm going to teach you something." Just simply say, "Dear first name." There's a tag you can put it in ConvertKit that automatically fills it up.
But, that's how you should write it. That's the first thing. Talked a lot about that first thing, but it's super important. Second thing, and this is a tip that I learned from Pat Flynn. Also, if you looked at a lot of emails from ConvertKit and Nathan Barry's emails, they're the same thing. Which is to use heading tags. One of the problems of email is that we all get a lot of it. I get a lot of it. If you're writing a really long email, for example if you're trying to vibe value, or you're trying to do a pitch of some kind, most emails … Email is like social media that people just open up, they just scan through. Then maybe they'll look at it, maybe they won't. Let's say you're writing a really long email, because you're trying to paint a picture or something, trying to tell a story, a great way to still keep people's attention is to treat it like a blog post, and put heading tags.
Put a heading tag every so … Wherever it makes sense, so that you break up the email, and that it's easy for the person to read through and understand what you're talking about. The third tip, which is another tip I learned from Pat Flynn … I believe his link might be in the description. I'm not sure. Just check the link. I'm going to put the link in the description below for his demo of ConvertKit. He recommends that if you have any links, let's say to a blog post, do a sales page, to a YouTube video for example, that you keep your links on separate lines. The reason why is a very practical one. Which is that most people, you look at email on their phones, and … If you're using a smartphone for example … Here's mine. I have a iPhone 6s. It's a relatively small screen. If you look at mine, my thumb is pretty big compared to the screen.
Putting the links on a separate line, separate from the text, is a great way to ensure that they click on it, and they don't click on it accidentally. That's a [inaudible 00:06:36] power tip. Thank you Pat Flynn. Again, I will put the link to his demo down below. Really great demo. That was actually the demo that actually convinced me to check out ConvertKit. Yeah, that's really my three tips. Number one, write your emails naturally and simply, just like you open up in Gmail. Number two, if you're writing a long email, use heading tags so that you can ensure that people actually read it. Even if someone scans it, they can really understand it. Three, keep your links on separate lines, so that you avoid people accidentally clicking on them, and that it makes it easy to check it out. Especially on the mobile device.
If you use those three tips, you will really rock your email marketing. Again, if you are not on ConvertKit, and you would like to check it out, I've put a link right below in the description, techloversblog.com/convertkit. That is my affiliate link for ConvertKit. If you do choose to purchase it, I will make a small commission. Just want to be totally upfront about that. But I use it. It is a great tool. If you would like to see it in action, you can go to techloversblog.com/resources. That's a link to my resources page. Right underneath the resources page in the menu, you'll see some freebies. You can grab one of my freebies. I have a Facebook ads targeting guide, and a Facebook live toolkit. If you want to do a live video, just like what I'm doing right now, I have a toolkit that will help you do that. I haven't added it, but I also have a Facebook live jumpstart course. If you are interested in doing Facebook live but you haven't checked it, and if you're just stuck, you can go there.
I will actually put all three of those links to my freebies down below, so you can sign up. Then once you sign up, you can actually see ConvertKit in action, the way I use it. It's really [inaudible 00:08:47] for this video. If you like this video, hit the like button right below. Be sure to subscribe so you don't miss another one. Also, comment with whether you agree or disagree out of these tips, if you're using ConvertKit. Any questions about email marketing, I'd love to answer. Hope you guys enjoyed this video. This is actually a second time I've actually done a YouTube live. I really love it. It's pretty great. I hope you guys have an awesome day. Cheers. Bye.